John Crisp's sermon on "God and Moms" was given on Mother's Day and naturally focused on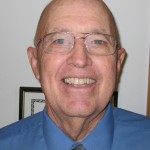 the essential role of mothers in our lives. John started with humor and used scripture and other quotes and a poem to make his point. Some notable quotes that John used are: " The moment a child is born, the mother is also born" and "A mother understands what a child cannot say".
John used the following scriptures: Ps. 30:5, 32:1, 34:18, 36:5+7, 86:15, 89:33, 107:21, 130:3, Luke 2:16-19, Col. 1:27, John 3:3-8, 16.
Listen to audio of the sermon here ->  5-9-2015 sermon
John Crisp is an Elder at the Conroe Church of God 7th Day and lives in Conroe, TX and preached by invitation as he does on a regular basis