Elder Whaid Rose's sermon on "Celebration of Grace" was a Thanksgiving service message that developed the theme of God's Grace in our lives and in the Bible.  He said things like: "Thanksgiving is the all time holiday", "Everything that we have, everything that we hope to be is from the Lord", "Our hardest trials come after great spiritual experiences", and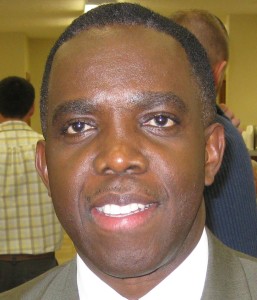 "God uses suffering to perfect His purpose and power in our lives".  A long sermon by our standards, but full of humor and insight.
Elder Rose used the following scriptures: Ps. 100:4-5, 2 Cor. 12, 1-10, 11:22, 16, John 1:1, 14, 16, Ps. 34:1, 1 Cor. 15:57, 2 Cor. 2:14, 2 Cor. 9:15
Listen to audio of the service here -> 11-8-2014 sermon   (64 min)
Elder Whaid Rose is the Chairman of the Church of God Seventh Day General Conference and was preaching by request.