John Crisp's sermon on "Writing the middle chapters" centered on Nicodemus and his experience with Jesus.  John started with Nicodemus coming to see Jesus privately and ended with Nicodemus assisting Joseph of Arimathea with embalming the Lord's body. John explored three scenarios about what happened in between these two events: the middle chapters. As the sermon developed, John challenged the listeners to be born again, comparing the middle chapters of Nicodemus to our own lives.  Some notable quotes were "The heart of the entire Bible message is found in John 3" and "do the middle chapters (in your life) include Jesus?"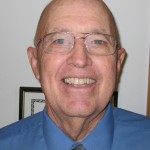 John used the following scriptures:  John 3:3-18, John, 19:39-39, Mark 14:55, John 7:50-52, Mark 14:61-62.
Listen to audio of the sermon here ->  3-8-2014 sermon
John Crisp is an Elder at the Conroe Church of God 7th Day and lives in Conroe, TX and preached by invitation as he does on a regular basis.